Interview at Polka Dot Bride
24.11.14
BY POLKA DOT BRIDE | WEDDING PLANNING WISDOM, WHAT WOULD THEY KNOW?, WISDOM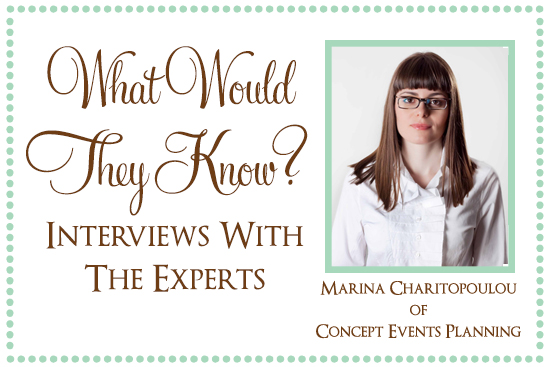 Concept Events Planning is a wedding planning business based in Thessaloniki, Greece. Founded in 2008 by Marina, the team is able to plan and style, source vendors and offer you the perfect location for your event or wedding – even from afar. Marina is passionate about her home country and with sunshine, cerulean blue skies and seas, great food and wine to over indulge in, and views to 0000h and aaaah over – Greece offers the stuff dreams are made of. With Greece a hop, skip and a jump away why not consider a wedding with a holiday thrown in for family and friends in this most beautiful part of the world?
Where is Concept Events Planning based?
We are based in Greece, in the city of Thessaloniki, the second largest city of Greece and the capital of the Greek region of Macedonia. Built near the sea – surrounded by the Thermaikos Gulf – it is a modern metropolis bearing the marks of its stormy history and its cosmopolitan character, which give it a special beauty and charm.
What is your background, and why did you decide to set up your business?
Creativity was part of my life since I was born. My mother is an Interior Designer with her own studio for the past 30 years and I always wanted to continue and expand the family business. After graduating from high school I studied Interior Design for 4 years in Florence and Milan, Italy at the Istituto Europeo di Design. I've helped decorate weddings for my mother's clients during my high school years and developed a secret passion for events, so when I found out that IED offers a continuing study program in Events Planning, I took the opportunity and got a second degree. Concept Events Planning was founded in 2008, when I came back in Greece, as an expansion to our Interior Design studio. This career gives me an opportunity to combine my attention to detail and organizational skills with my passion for weddings and beautiful events. I have been working hard on planning, designing and coordination of weddings and events for the past six years and I love every moment of it.
PHOTO
Can you give us a little snapshot of the places you suggest for a wedding in Greece?
Greece has numerous beautiful wedding locations to offer with spectacular settings, which will create the best environment for a destination wedding. A few ideas for places where you can have a remarkable wedding in Greece:
Halkidiki: Located in the south-eastern portion of Central Macedonia in Northern Greece. It consists of a large peninsula in the north-western Aegean Sea and it is surrounded by the flawless beauty of Mediterranean pine trees, lush gardens, white sandy beaches, clean turquoise waters and azure skies that make it an ideal location for a beach wedding.
Couples love getting married in the old town of Corfu because of its beautiful Venetian style historic centre. The most popular venue is the Town Hall of Corfu, a beautiful 19th century building, originally the Venetian-designed San Giacomo Opera Theatre, located in the heart of the historic town in Corfu.
Pelion: Located by the small village of Damouchari, where filming for Mamma Mia took place, this whole area of east Pelion offers unique, picturesque, charming and traditional locations that are perfect for your special day. This beautiful and natural landscape boasts plentiful green mountain forests which slope down to the sea. Here you can find some of the most tranquil environments. Legend has it that Pelion was the region of Greece chosen by the ancient gods for their weddings and celebrations.
Athenian Riviera: The Golden coastline known as the Athenian Riviera at the southern suburbs of Athens is a great location for an intimate seaside wedding. You can enjoy sunny days and cool evenings by the sea and easy access to an array of first-class seaside restaurants and nightclubs and the most interesting cultural and historical attractions in Athens.
Messenia: The Greek region of Messenia in the southwest Peloponnese is one of the most unspoiled and breathtaking seaside landscapes in the Mediterranean. It is a land of rolling hills and rugged mountains, protected bays and beaches, and broad valleys of lush olive groves, fields and vineyards. With the crystalline waters of the Ionian Sea serving as the perfect backdrop, Messenia is an ideal wedding destination that combines romance and history.
The Μedieval fortress of Monemvasia, once a major port of commerce during the middle ages. The city was successively ruled by the Venetians and Ottomans after the fall of the Byzantine Empire. Whether the ceremony takes place in one of the many churches in the Medieval Castle-city of the Peloponnese or in the tiny rural chapel nearby, set in the heart of a verdant citrus grove and rolling vineyards, or the lovingly restored and stylishly furnished mansions are ideal for hosting a unique wedding.
Spetses: Also known as the "island of aromas", it is a cosmopolitan and stately island. The great mansions, the pine woods that reach down to the shores of the clear sea and the beautiful pebbled beaches offer a spectacular scenery for an island wedding in Greece.
PHOTO
What about the marriage legalities – what do we need to know?
There are 2 legal ways to get married in Greece. Couples who wish to have their wedding in Greece can do so in either a civil ceremony performed by a mayor or in a religious ceremony performed by a priest.
Most church weddings in Greece are Orthodox, but Catholic, Jewish and even Buddhist weddings are possible as well. As stated by Orthodox Christian religious law, only two people of the same faith are allowed to marry in an Orthodox church and must provide baptism certificates as proof or must state an intern to convert. So, if you are a Catholic and an Orthodox, you can get married in an Orthodox church but if you believe in any other religion then the Orthodox wedding is not an option.
Are couples able to marry with a celebrant, in Greece?
Yes, couples can have a Symbolic Ceremony performed by a celebrant. As a symbolic ceremony is not legally binding, there are no official paperwork issues to deal with and can take place almost anywhere.
What is the best season of the year to plan a wedding in Greece?
You can get married all year round but the most popular months for Greece are May, June and September as they are cooler and not too busy.
How far out from the wedding date, should a couple commence their planning with you?
Anytime within two years of the wedding date is a good time to start your planning. Couples really don't need to start farther ahead unless they must book a specific wedding date or have a specific location in mind that regularly books out farther than that.
PHOTO
What are the planning steps for organizing a wedding in Greece through you?
Couples can contact us via telephone, email or by filling in the Wedding Questionnaire on our website www.concept-events.gr . The initial consultation is free and I encourage couples to give me a small description of the kind of wedding they want – an estimated date of wedding, preferred wedding destination(s) in Greece, type of wedding, number of guests and services they want us to provide. From there I put together an initial quote/proposal to check we are on the right track.
In-person meetings are welcome but not mandatory. Consultation prior to the wedding is done mostly via e-mail & Skype. We prepare handmade drawings of the proposed décor solutions and provide photos or videos of all proposed locations. We also prepare personalized, detailed timelines to keep track of what needs to be done and when.
For those of us not living in Greece, and wanting to plan a wedding in your country, what services do you offer?
At Concept Events Planning we understand how overwhelming it can be to plan a wedding especially if you live abroad. We plan, design and coordinate the perfect wedding from start to finish. We will take care of all your planning needs with great attention to detail in order to bring your dream wedding to life. You will have the choice of as little or as much involvement in the process as you like, while we make sure that the event is stress free and flawless.
The Design refers to the imagination, creativity and inspiration that make your event unique. We work closely with you to sleuth out your style and then use that insight to develop every aesthetic component of your event from stationery and lighting to flowers and furniture. We provide handmade drawings of the proposed décor solutions. The Planning refers to the strategy that leads to a seamless event – developing a thoughtful budget, assembling the perfect team of vendors, streamlining the scheduling and juggling the logistics from travel and accommodations to dress fittings and seating arrangements. Our amazing teams of vendors produce all of our floral and stationery designs, not to mention all of our custom fabricated props. We don't just dream up the design, we breathe life into it.
How do you encourage bridal couples to bring the flavor of Greece to their weddings?
I believe that a wedding should be an expression of the couple's vision and personalities as well as their cultures, family traditions and backgrounds. I also believe that the secret to a beautiful destination wedding lies in matching your surroundings. By incorporating the natural beauty of the surroundings into a couple's concept, we can create an unforgettable celebration for the couple and their families and friends. We do encourage couples to choose a central wedding theme that matches the wedding location; include local food on the wedding menu and give Greek traditional wedding favors with koufeta (sugar coated almonds) to their guests.
PHOTO
Are you able to suggest accommodation for guests?
For sure! I personally LOVE hotels and hotel design so finding the perfect place to stay is sort of my hobby. I have spent a night in many different hotels and guesthouses but I also visit them to spend the day, try their breakfast and check rooms & facilities, etc.
Are you known for a certain 'style'?
We are all about timeless elegance and an effortless glamorous look. We are also known for custom fabricated props.
What elements do you love to use when styling weddings?
Paper details that match the wedding style like a "Cheers" sign on the champagne glass or a "Thank you" note on the table in front of every guest.
What is the one element we should use abundantly when styling a wedding?
Choose a wedding style and stick to it throughout the wedding.
PHOTO
Your favourite restaurant in Greece?
ERGON Greek Deli – Restaurant, a Greek chain of restaurants and delis.
Favourite things to see and do in Greece?
I love spending time travelling around Greece by car. Apart from hotels, I love museums as well. I truly enjoy walking inside the Acropolis Museum in Athens; it clears my mind. I'm also a foodie so I spend much of my free time appreciating good food and I really enjoy eating fresh fish every weekend. Having coffee is Thessaloniki's favorite recreation and the city offers a huge array of cafes for all tastes. I don't normally drink coffee, but I occasionally spoil myself with a cappuccino and a couple of hours of chit-chat and relaxing. Last but not least, I enjoy a walk by the Thessaloniki seafront in the late afternoon. The city's southwest orientation rewards me with a spectacular sunset and wonderful sky colors.
Thank you Marina for sharing your story. For more information about Concept Events Planning visit the website.
Headshot by Arte di Tre Studio.